Next up for our athlete introductions is SHAYLYN LOEWEN.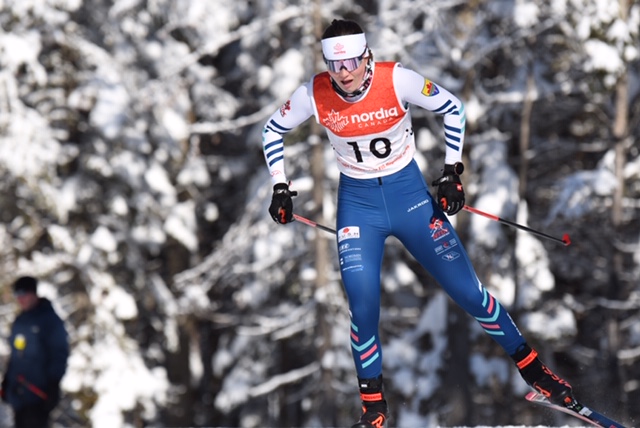 This is Shay's third year with the NTDC team. This winter Shay competed in Vuokatti Finland as part of Team Canada at the 2021 FIS Junior/U23 World Championships. Shaylynn hails from Parry Sound and her home club is Georgian Nordic.
How long have you been skiing?
I've been skiing for 12 years.
Any special memories about your early days in skiing?
My best early memories are about skiing with friends on the trails behind my elementary school
Early competitions?
I started out doing elementary school races at Georgian Nordic and Hardwood, and I went to Midget championships when I was young too.
What made you like skiing?
Skiing was a good way to get outside, make new friends and push myself
Are you going to school or working?
I'm in my 3rd year of physics at LU. I'm a server at Thai Kitchen in the winter & in the summer I work for a contractor (building stuff & doing cool projects!).
Hobbies?
painting, baking, American Sign Language
Favorite recovery food?
Pretzels & peanut butter are my go-to.
New to Tbay? How is that going?
This is my 3rd year living in Tbay & I'm loving it. I really enjoy exploring new places around town.
What are your skiing goals
I had hoped to be racing FISU games in 2021, but they were cancelled. This is super to be named to the U23 team though! My long term goals are to race at the Olympics and race the whole Tour de Ski.
Something you are working on this year (in life, skiing, school,…)
I'm working hard to get past the halfway point in my degree.
Who do you look up to?
Kikkan Randall – she's done big things in skiing for the US & North America on the world stage, but is also very inspiring as a person.
Any pro tips for younger skiers?
Snack lots, have fun!!