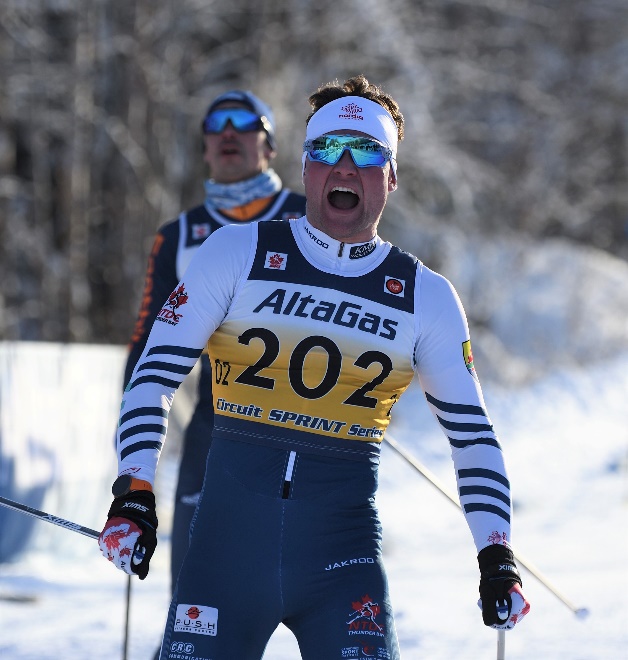 Athlete introductions continued….. GRAHAM RITCHIE, another NTDC veteran, National Ski Team member, and member of Team Canada for the FIS U23 Championships, and Period 3 World Cups. Home Club: Georgian Nordic from Parry Sound, ON
Q. How long have you been skiing?
I've been skiing for around 16 years now. My parents first put me on skis when I was about 6 years old.
Q. Any special memories from your early days in skiing?
I was out for many Saturday morning Jackrabbit sessions growing up. I'd say the candy scavenger hunt days, the bonfire marshmallow roasting days, the funky hat days and the snow sculpture building days bring back some good memories! I didn't really compete much growing up. My first Ontario Cup was in grade 11 and I've been competing ever since.
Q. What made you like skiing?
I liked it as a kid, I thought it was a fun outdoor sport to do in the winter growing up. And honestly not much has changed now. I still like it, and the racing aspect of it has brought me to where I am now!
Q. Are you going to school or working?
I've been taking part time school for the past 4 years. I'm currently finishing up a business program that is based out of Confederation College here in TBay. I also work throughout the year at a bike and ski shop called Rollin' Thunder – a lot more so in the summertime, but I'll be in there for the odd shift in the winter when I'm not on the road.
Q. Any Hobbies?
Fishing, biking, taking pictures, ODR time, golfing. Q. Favorite recovery food? A bowl of cereal with blueberries on top. Usually Vector is the go to.
Q. What are your skiing goals?
My short-term goals are to continue racing at U23 World Championships and World Cups. As well as race at Senior World Champs. My long-term goal Is to represent Canada at the next Olympics in 2022.
Q. Something you are working on this year?
Staying positive going through these times!
Q. Any pro tips for younger skiers?
Take care of your gear. (wax your skis enough, dry your boots, clean your drink belt). Drink enough water, eat something within 30 minutes of finishing a workout, sleep enough.