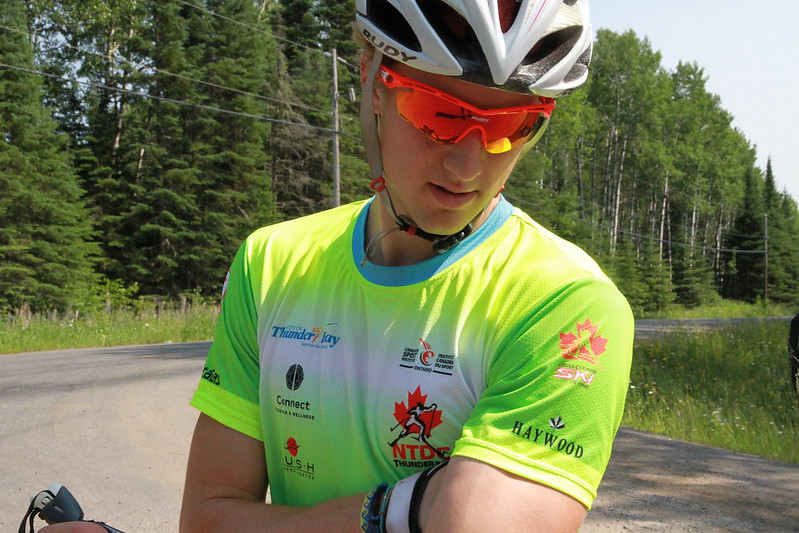 This next athlete needs no introductions- JULIAN SMITH
Q. What is your hometown and home club?
I was born in Hamilton, ON at McMaster University and was raised in Oxenden, on the Bruce Peninsula. I was three when I shuffled my way down a snowy track for the first time and I joined Georgian Bay Nordic in Gr. 9.
Q. Special memories about your early days?
Too many jump building sessions with my friends to count, a few equipment malfunctions which are funny to look back on now and many endless stories from long skis and exciting race trips. My first big time race was Ontario Midget Championships. I skied my heart out and was nowhere near the top of the list in the individual races. Then on the last day, my teammates and I made an underdog appearance and won gold in the relay. It was my first experience of teamwork in an individual sport. It is a deeply special moment for me.
Q. What made you like skiing?
While much of life is out of our control and one has to be able to stay agile, skiing was a facet of life in which I could control how much effort, focus, work and passion was put into trying to succeed and that was what hooked me. It is hard to find something that gives you emotional highs and heartbreaks as intense as elite sport can provide.
Q. Are you going to school? Or working?
Yes, I am. I have been attending Lakehead University since joining NTDC in 2014 working towards a HBSc in Biology. I worked at BothHands for the first 6 years during the spring and summer months, and Derek and Sue graciously let me focus on skiing during the snowy months. This summer I ended up working for Roots to Harvest which was a blast.
Q. Hobbies?
Try me. I am full of passion and find that the more I try, the more I enjoy. Primarily, I spend free time golfing and fishing in the summer with my roomies Graham and Pierre. Timo also joins us out on the links. I play guitar, make tasty coffees and love getting my hands on art supplies. When I am home, I spend many hours out in my dad's pottery studio slinging mud on the wheel.
Q. Favorite recovery food?
While training (because fueling during is a huge part of recovery) my go to is Fig Newtons a.k.a. Figgie News. Post workout, nothing better than a smoothie!
Q. New to Tbay? How is that going?? Hi points/lo points?
Hah! I remember peeling off the highway onto Hodder Ave. like it was yesterday but I do not think I classify as new to town anymore. The people who make up this community are one of the highs.
Q. What are your skiing goals (short term, longer term)?
Short term, I am looking at this time away from racing due to Covid as an opportunity to make decisions now that will make me as fast as I want to be when I get to race again. For me, that is looking like lots of intensity, a huge amount of double pole and working on top end speed.
Long term, my goal is to compete for Canada on the World Cup stage and win for my country, and ultimately to feel the weight of an Olympic gold medal around my neck.
Q. Something you are working on this year ?
Again, with this time away from racing, I am also taking the extra time that we have been gifted to take more school so that has been a big focus to stay on top of 6 courses.
Q. Who do you look up to?
I think it can be difficult to find a single person who exhibits everything one looks for in someone else to look up to, lucky for me, I have an incredible team around me, made up of a mosaic of unique and diverse athletes, coaches, and IST members. I try to use the people around me to look for what they do better than me and use their strengths as a blueprint to better myself.
Q. Pro tips for younger skiers?
Treat your gear with respect, it plays a major role in our sport. Fuel your body like the Ferrari that it is and give it the best of the best. Sometimes doing nothing is the best thing to do so when you have to spend the afternoon napping and watch Netflix…own it because rest and recovery is the glue that holds all of the work you do together. The world is a beautiful place, when you travel (after COVID) for training or a race, remember to soak it all in and enjoy the experience.
Something else you just need to tell the world.
It is simple, we are in this together. In skiing, in this city, in this country and in this world. For today I will keep it to skiing. I think we can use our respective positions for good to progress our sport. Take the opportunities around you to help your teammates, thank your coaches, let others who are struggling lean on you and be open and vulnerable to ask for help when you need it. And I mean it, I am here for athletes who have questions or need to talk, 807-252-9607, feel free to use this is you need it.