What is the National Team Development Centre Thunder Bay? 
The National Team Development Centre Thunder Bay is an elite cross country ski team located in Thunder Bay, Ontario. Established in 1993, it is one of three national training centres in Canada that provide programming for athletes who are pursuing national and international excellence in cross country skiing. NTDC Thunder Bay operates under the umbrella program of Cross Country Canada in the development of athletes for the National Ski Team. It allows for the regional concentration of selected athletes to collectively train and compete as a team at the NorAm and World Cup level.
Where is it based?
The team is based out of Thunder Bay, but "training centre" is a deceptive term for NTDC Thunder Bay. There isn't one facility, but multiple. In the winter, the team splits on-snow training between the Kamview Nordic Centre and the Lappe Nordic Centre. Strength sessions are conducted at PUSH Fitness Centre and Thrive Strength and Wellness. Coaches have offices at CRC Communications, a telecommunication company that provides office space that acts as a "home base" for the staff of NTDC Thunder Bay to conduct day-to-day operations and athlete meetings.
What is the team structure?
The team typically consists of 10-15 athletes. About 30-40% of that number is generally women and the remainder is men. The team can be further characterized by race categories (Junior Men/Women, U23 Men/Women and Senior Men/Women). The entire team trains together on team training days, but each athlete will have their own individual plan for the training session.
Who are the coaches?
Timo Puiras is the head coach of NTDC Thunder Bay. A native to Thunder Bay, Timo has been the head coach since 2013. Camille Cheskey of Waterloo, Ontario joined the NTDC team as the assistant coach for the 2017-2018 ski season after being our Head Wax Tech for the past 4 years.
How do I apply for the training centre?
To apply for the training centre, an email of intent must be sent to Tom Holland, High Performance Director for CCC, at the end of March. Cross Country Canada will generally publish a posting on their website (cccski.com) with the deadline for application at the beginning of March.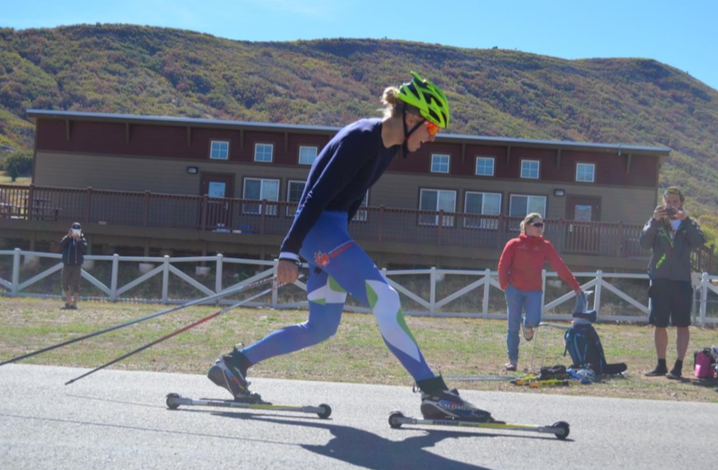 How is the team selected?
All athletes who apply for the training centre are ranked according to their performance in the prior race season and selected for training centres at the High Performance Selection Meetings held in April by Cross Country Canada. Successful applicants are contacted by the end of April.
When does the training season begin?
Once the team is selected and the athletes accept their nominations, Timo will begin to send out a general training plan starting May 1st. The team will meet for the first time at Boot Camp in mid-May. Boot Camp is a mandatory training camp and information week that introduces the new team to NTDC Thunder Bay and the expectations of being part of an elite ski team. It is the inaugural start to formal training for the new training season. After Boot Camp, the team will begin to train together on a daily basis. Junior- aged athletes that are still in high school attend Boot Camp and then return home to complete their schooling before moving to Thunder Bay.
What are the costs?
The training centre fee is $3000. Athletes also pay a monthly fee from July-April of approximately $1200 (dependent on the projected season costs) to account for their personal travel, accommodation and flight costs.
Where do the athletes live?
The athletes must find their own accommodation in Thunder Bay if they are moving from out of town to join NTDC. Most athletes rent houses together on the Port Arthur side of town. With a large ski community in Thunder Bay and Nordic varsity program at Lakehead University, there is always a fellow athlete looking for a new roommate!
How frequently does the team train together?
The team trains together 5-6 times a week. On team training days, the athletes are picked up by the team van at each of their respective houses and shuttled to wherever the training session happens to be on that given day. Team training sessions are almost always in the morning, and any afternoon workouts are generally on your own.
What is the training program like?
Each athlete receives an individual yearly training plan (YTP) consistent with their goals, volume base and race category. The YTP specifies the number of yearly hours the athlete aims to complete. It provides the framework for weekly training plans that specify weekly hour and daily workout details (i.e., location, type of training, amount of hours, van pick up times). Weekly training plans are sent out a couple of days in advance for scheduling purposes.
How does training at the NTDC level differ from training at the club level?
Training with a National Team Development Centre allows for greater structure and frequency of training. The type of training is the same; workouts still consistent largely of skiing/roller skiing as well as running, ski walking, core sessions, gym workouts, and cycling. The team training environment is different than at the club level because an NTDC brings together a focussed training group of elite athletes that are pursuing skiing at the highest level.
What is the IST?
IST stands for Integrated Support Team, and is a network of health care professionals that support and treat athletes with NTDC Thunder Bay. The IST is composed of a physician, physiologist, two massage therapists, two chiropractors, two sport psychologists, a physiotherapist, a nutritionist and a strength coach. With the consent of the athletes, the IST is able to communicate amongst themselves to decide on the best methods of treatment and preventative health care for each athlete.
Are there post-secondary opportunities with NTDC Thunder Bay?
The Thunder Bay training centre is particularly unique for athletes that wish to pursue post-secondary education because it provides multiple options for its student-athletes. Confederation College and Lakehead University are centrally located in town and provide a variety of programs. Athletes can choose to take courses part-time or full- time. Students at Lakehead University in a minimum of three courses may also choose to compete with the Nordic varsity program. As NTDC Thunder Bay attempts to provide a niche for elite student-athletes, there is an Academic Liaison position on the board of directors that communicates to professors the specific limitations of being an athlete that travels regularly and trains daily.
How do I find out more about the team?
Information about the team is posted on the website www.NTDCtbay.ca. You can also find out more by following NTDC Thunder Bay on Facebook, Twitter (@NDCTbay) and Instagram (NDCtbay).
We are also very friendly! If you have any questions, please don't hesitate to talk to a
coach or an athlete at a ski race or training camp.
____________________________________________________________________________
Photos by NTDC Thunder Bay and Marie-Eve Bilodeau-C